Free Shipping Worldwide for orders of 150 USD or more.
Shipment is approximately 10 days delivery to your door.
This medium to full-bodied cigar starts out with earthy spices and cedar notes. There is an earthiness and creamy flavor that continues to develop through to the end. You will note some light coffee bean aroma that gets stronger as you near the end. A surprising dark berry finish when you expect a nicotine rush.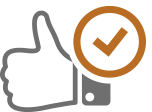 Satisfaction
Guarantee
We offer a 100% satisfaction guarantee on all our cigars or your
money back. Our guarantee applies to quality and condition of our
products.

Authentic Cuban Cigars
Guarantee
We also guarantee that all our cigars are 100% genuine Cuban
cigars.

Worldwide Shipping
Guarantee
We guarantee delivery to your door anywhere in the world. If you
do not receive your shipment, we will either replace it or refund
your money. We also guarantee receipt of your cigars and other
products in perfect condition.