Free Shipping Worldwide for orders of $350 or more.
Shipment is approximately 10 days delivery to your door.
Not a Piramide, this Habano from Bolivar is classified as a Campana, a tapered cigar that has the same ring gauge, although somewhat shorter than other figurados. The cigar is spicy, earthy, and has fresh woody undertones and hints of old leather. It has a very good draw and is the boldest in the Bolivar Belicosos Finos line. The wrapper has a slight saltiness and is generally darker than the other vitolas in this class. There is always ample smoke and an easy draw. The ash is a deep gray and adheres well to the body.


This is a full medium-bodied cigar which starts off somewhat shy, building to a rich, spicy, finish. Notes of dry nuts and espresso develop about halfway through your smoke.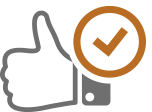 Satisfaction
Guarantee
We offer a 100% satisfaction guarantee on all our cigars or your
money back. Our guarantee applies to quality and condition of our
products.

Authentic Cuban Cigars
Guarantee
We also guarantee that all our cigars are 100% genuine Cuban
cigars.

Worldwide Shipping
Guarantee
We guarantee delivery to your door anywhere in the world. If you
do not receive your shipment, we will either replace it or refund
your money. We also guarantee receipt of your cigars and other
products in perfect condition.