Our customers have a wide range of interests besides the love of Cuban cigars. This page is dedicated to those interests; if a customer wants to offer an opinion on any subject, submit photos, or just ramble, this is where their entries will be found. If you want to place something in this space, please E-mail Mickey at [email protected].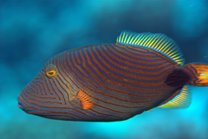 This photo, submitted by avid diver Terry W., was taken in Bora Bord
Trinidad Coleccion 2006 Torre Iznaga 6 x 52
By Terry W.
This Cigar is one of the most beautiful cigars I have seen in a long time. The workmanship on this cigar is excellent; the way it is rolled, the color of the tobacco, and cap is what I would call a perfectly made cigar!
When you first light up this cigar the draw is very easy, it has a slight taste of cinnamon, nutmeg, allspice & leather. As you get into the cigar it develops up a smooth creamy texture, with nutmeg, allspice & leather notes growing more pronounced.
By the time I got to the end of the cigar I was holding on to it as if it were my air supply, I smoked it to the nub!!!! Burnt my fingers!
A most unusual aspect of the cigar is the ash; most Cubans I have smoked develop a gray-black ash, most often rough with obvious ridges - but on this Cigar the ash is almost Pure White: I have never seen or smoked a Cuban with an ash with this look to it! It is smooth, white, without mottled black or gray. The ash was 1 ½" long before it fell off.
I liked this cigar so much I ordered one more box to hold on for special occasions. Thank you for suggesting this purchase.
Terry W.