Free Shipping Worldwide for orders of $350 or more.
Shipment is approximately 10 days delivery to your door.
Your first impression might be wrong about this cigar; it looks imposing, but it is tame, medium-bodied, and one of the great Cohiba Esplendidos presently being produced in Havana. The smooth, Colorado wrapper, silky and almost without a vein showing, is as pleasant to the eye as to the hand. At 7 x 47, this is a rich, spicy, yet ambered flavored cigar.
The most pronounced notes are of fresh nuts, summer fruit with ambered undertones, and rich, moist earth. The smoke starts off slow and ends on a high note, in the medium-to-full-bodied area. Smoked gently, the cigar provides a thick, heady aroma, and is cool, even burning, with a creaminess which is delightful. The younger cigars have notes of grass and mild spice, while those who have the time to age this cigar will discover a dark, burnt-chocolate flavor and even fresh roasted coffee bean notes, for the last half of the smoke.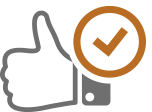 Satisfaction
Guarantee
We offer a 100% satisfaction guarantee on all our cigars or your
money back. Our guarantee applies to quality and condition of our
products.

Authentic Cuban Cigars
Guarantee
We also guarantee that all our cigars are 100% genuine Cuban
cigars.

Worldwide Shipping
Guarantee
We guarantee delivery to your door anywhere in the world. If you
do not receive your shipment, we will either replace it or refund
your money. We also guarantee receipt of your cigars and other
products in perfect condition.