Rocky Patel Decade Robusto
Free Shipping Worldwide for orders of $350 or more.
Shipment is approximately 10 days delivery to your door.
Decade
Perfection takes time. For the Rocky Patel Decade, it's the perfect blend 10 years in the making. The Decade showcases a rare, gorgeous Sumatra wrapper surrounding a secret blend, featuring only the finest tobaccos in the world. The result is a rich and toasty medium-to-full-bodied smoking experience with flavors consisting of espresso, dark chocolate, sweet spice, white pepper with a silky smooth finish. Complexity, balance and elegance earned the Rocky Patel Decade rating of 95 points - an instant classic. Truly one of the best cigars ever made.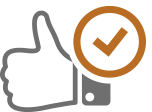 Satisfaction
Guarantee
We offer a 100% satisfaction guarantee on all our cigars or your
money back. Our guarantee applies to quality and condition of our
products.

Authentic Cuban Cigars
Guarantee
We also guarantee that all our cigars are 100% genuine Cuban
cigars.

Worldwide Shipping
Guarantee
We guarantee delivery to your door anywhere in the world. If you
do not receive your shipment, we will either replace it or refund
your money. We also guarantee receipt of your cigars and other
products in perfect condition.